Scurry Mode
Ever felt like the guy in the video below from the old Ed Sullivan Show? I think there might be a short commercial when you start this, but hopefully not. As I watched him frantically but happily scurrying around, I could see the similarities to my life over the past few weeks and for several more weeks to come.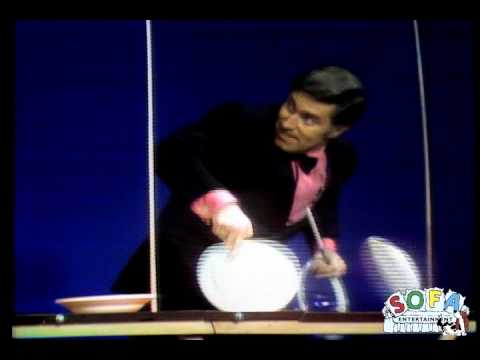 I don't have that many plates to keep spinning, but there are a few.
The Verse by Verse Plate
Verse by Verse has been a great experience. As I mentioned before, these radio programs air on WTBN in Tampa each weekday. You can check their web site for airing times. It's http://www.letstalkfaith.com. The new series on Psalm 23 started airing on January 28. You can listen to the ones already aired right here. Go down to the one titled "Verse by Verse 012815″ to start at the beginning. I'm almost finished with a short Easter series that I need to get ready now so that I will not be pressed for time when I return from Togo in March. It's about the practical implications of the resurrection and the text is from 1 Corinthians chapter 15. Processing Steve Kreloff's messages so that I can introduce and summarize them is proving to be an excellent spiritual exercise.
The Togo Trip Plate
Plans are moving along for Evan Drake and me to go to Togo. (Watch out saying "to go to Togo" out loud. You might get caught in some sort of a loop and need help to get out of it.) We'll need to pack for 100 degrees and more of tropical heat, but also for winter since, as I mentioned before, we'll spend a couple days in Paris on the way to Africa. Oh! And grown men do not wear shorts in Togo. The first time I went to the Czech Republic on a mission trip with our church, our trainer commented that we were not exactly spring chickens. My response was, "Good! That means God will get that much more glory for what He will do through us." Well, that was almost 15 years ago. If I wasn't a spring chicken then, I don't know what you'd call me now – probably just a nut but a nut who's amazed to be a part of the launch of Hope Radio. 😀
Evan and I got our yellow fever shots a couple weeks ago. His was a renewal and mine was a first. I also got my first injections for Hepatitis A and B. We wondered if there would be side effects, but the only pain was the roughly $560 we had to fork over to leave the clinic. I still have three boosters to go to finish the Hepatitis vaccines. Yikes! Between plane tickets, bus rides, car rentals, food, and vaccinations, we estimate that the trip will cost us each about $3,000. That's higher than our original estimate because of the unexpectedly high cost of our shots. So far, $2,350 has come in for my part of the trip, so I am very encouraged as well as excited to see how God will supply the rest. He is always full of surprises. Evan's son, Adam, serves with ABWE in Mango, but since he is on furlough in the States, he will not be available to pave the way for us while we are there. So, if you pray for the funding, will you also pray for the logistics? On the other hand, Even has been there before and is completely fluent in French, which is the business language of Togo. I will absolutely be staying close to him! Evan's son, Sam, took the above pictures on a trip to Togo last year. I hope to have pictures of my own soon!
The Studio Improvement Plate
While our recording studio functions well, it has gradually become a storage place. I work a little each week at restoring it to its former glory. The first thing I did was to perform a microphone transplant and I like the new sound much better. I have some ideas for several inexpensive upgrades when I get back from Africa and finish cleaning up the area. The studio has always been set up to use two people, one speaker and one operator. Having spent nine years at an understaffed radio station, I know how valuable time is. Therefore, I'll be reconfiguring it so that one person can go in there and record while having complete control of the mixer and the recording computer. The picture at left is the impressive part of the studio. The part you can't see is my target area. 😉
The Web Site Plate
When I first got here the Bible Basics web site was one of the plates I kept spinning the most vigorously. I spend a lot of time learning about the content management system because it was completely new to me. Then I made several changes to freshen the information and add new material. There are still lots of things I want to do to get it up to date and then try to keep people coming back for fresh information. Lately, though, I've had to neglect it a little because Togo and Verse by Verse have been more urgent. I'm sure that when Evan and I get back from Africa, I will have plenty of new material for the web site.
The Computer Network Plate
Our previous IT expert, Jim Avella, is still coming in from time to time to help with some upgrades. We had been using a small Seagate NAS (network attached storage) device for backing up everyone's files. Unfortunately the NAS was not only too small, it was not flexible or powerful enough to satisfy our needs for very long. At left is our "new to us" Dell file server that Jim and I recently put into service. We have another one just like it but with twice as much storage that is almost ready to go on line. Since I've been tied up lately with the Togo and Verse by Verse duties, Brett Pruden has been a big help in getting this second file server ready to go. When it's done we will have around 11 to 12 TB of backup storage for our audio, video, and image files. I wonder how long that will satisfy us!
The Candlewood Plate
Candlewood Community Church is not part of Bible Basics, but it is a large part of my life and Mildred's life, too. She and I were part of the task force in 2006 that launched Candlewood and we are thrilled to be back at our home church during this exciting time in her continuing development. In January, to my great surprise, I found myself chairing the board of deacons. In our governance, the deacons see to the physical and financial condition of the church. I've never chaired the deacons before, so coming in not knowing much about Candlewood's structure is quite a challenge. So far I feel like more of a student than a leader!
While the home office is not as glamorous as the field, it is certainly not boring. I still enjoy being of service to God's global evangelism network. Mildred and I appreciate your prayers and support.